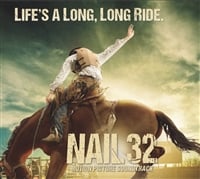 $

10.00
Holly had the honor of playing Buck Livingston's daughter, Tommy Sue, in Nail 32. You will see in her the 2nd half of the movie as well as here 5 of her songs.
The special thing about the Soundtrack is it has 1 song from each musical artist from the movie and you relive the story of Nail 32 as you listen to the music from start to finish.
4 songs are from her Boots and Bling Album ("Brothers," "Cowboy Up," "Who Said," "Sunshine." 1 song is from her Audience of One CD, "Amazing Grace." You will also hear her song, "Cowboy Up" on the Official Nail 32 Soundtrack. All are available right here on hollyspears.com
Look for the Nail 32/Holly Spears Package. Get the Movie, the Soundtrack and Holly's Boots and Bling CD save money while you're at it!